Laird, Elizabeth (2006). Oranges in No Man's Land. London: Macmillan
Recommended by Beverley Naidoo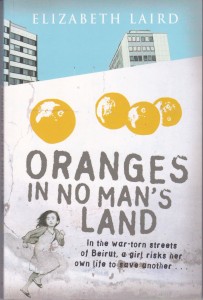 Elizabeth Laird is the acclaimed author of thought-provoking novels for young people.  She is a storyteller who is an acute observer with a sensitive imagination and who has lived in the Middle East, Ethiopia and other countries ravaged by war. Her novels vividly bring to life human beings whose lives are often carelessly thrown away by political leaders – or simply reduced to mere statistics.
Oranges in No Man's Land is a particular gem. I admire the combination of simplicity and depth in this short novel of 116 pages – one of Seven Stories' Diverse Voices '50 of the Best' (50 culturally diverse books published in the UK over the past 50 years). It begins with a preface that deftly grounds the reader in historical reality: 'I lived in Beirut during the civil war that raged in Lebanon thirty years ago…'  In a few paragraphs, the author describes the city overflowing with refugees fleeing the Israeli invasion of southern Lebanon, from her perspective as a young mother.
Chapter One begins: 'I was born in Beirut. It had been a lovely city once, or so Granny told me…' The narrator Ayesha, from a refugee family, remembers the unforgettable few weeks when Mama is killed by a shell. Ten-year-old Ayesha and her younger brother escape in the nick of time. Granny hobbles after them, carrying their baby brother but leaving behind her vital medicine. With Father abroad looking for work, they depend on acts of kindness to survive. When Granny falls desperately ill, Ayesha sets off secretly to cross the Green Line and No Man's Land into enemy territory to get medicine from the doctor for whom Granny used to work. The friendship forged with Samar, who is [End of Page 49] deaf, ingeniously rescues Ayesha in this memorable tale where the brutality of war is challenged by individual acts of courage, decency and humanity.
Beverley Naidoo grew up in Johannesburg. As a student she joined the resistance to Apartheid, ending up exiled in England. Her first book Journey to Jo'burg, originally banned in South Africa, opened a window for children worldwide and is now a modern classic. She has won many awards including the Carnegie Medal for The Other Side of Truth. A teacher for many years, she holds a PhD as well as honorary doctorates for her body of work. Her website: www.beverleynaidoo.com
Browne, Anthony (2007) Silly Billy. London: Walker Books
Recommended by Janet Evans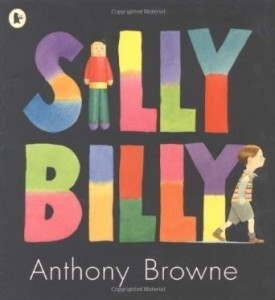 Poor Billy is the young protagonist in Browne's picturebook about worrying. He is worried to distraction about all kinds of things.  Lying in bed at night he initially worries about unlikely things such as clothes – hats and shoes; then more difficult to sort out things such as the weather – clouds and rain; finally he has quite complex, nightmarish worries such as giant birds who try to carry him off in the dark of the night.  Overall, it is evident that Billy has things on his mind and he cannot sleep because of them.  He tells his parents who comfort him, however, he still worries. The breakthrough comes when he goes to stay with his grandma. She knows just what to do having been a worrier herself. She presents Billy with some worry dolls with instructions to tell each of them one of his worries… they will do his worrying for him while he sleeps.  Initially this works well, but after returning home Billy starts to worry once more… this time he worries about the dolls… they are worrying about his worries and it doesn't seem fair.  He has a gestalt. He thinks of something that will categorically solve the problem! He makes worry dolls for the worry dolls and that night [End of Page 50] everyone slept.  So good is his solution that he finishes up making worry dolls for all of his friends who, it turns out, were also worriers just like him.
In this book Anthony Browne has chosen to focus on something that is an ongoing part of most adults' everyday life – worrying. However in Silly Billy he shows us that it also happens, on a regular basis, to children as well. Although adults tend not to think about it, children can be real worriers. During discussion with children about worries after sharing this picturebook, I have discovered that ordinary, everyday things rest heavy on their minds: falling out with friends, wearing glasses, not being good at maths, being teased and even worse, being bullied by other children. Children also worry about complex, global issues: people being injured and dying in wars and conflicts; the effects of green house gases and global warming; animals dying due to loss of habitat and environmental destruction.  These and many other issues occupy the recesses of children's minds, particularly when they are resting quietly in bed trying to sleep. Anthony Browne has captured some of these issues in a simple but thought provoking manner and readers are challenged to talk about the book and the issues that emerge, in search of solutions.
As is usual in Browne's books the pictures and the text work together seamlessly.  The pictures are used to convey Billy's state of mind – they are sepia/grey when he is worrying and there is no resolve in sight, but bright and colourful when he is at ease with himself or has solutions to his worries. At no point in the book are we led to think that there will not be a positive solution to the worrying issue – even the pages which show Billy worrying are surrounded by a bright coloured border – seemingly every cloud DOES have a silver lining.
Janet Evans is an Independent Scholar, freelance Literacy and Educational Consultant and former Senior Lecturer in Education at Liverpool Hope University. She has written ten books on children's literature, literacy and maths education. Her latest academic book, Challenging and Controversial Picturebooks: Creative and Critical Responses to Visual Texts, Routledge (2015), reflects her current research interests into children's responses to strange, ambiguous and unconventional Picturebooks. [End of Page 51]
Viorst, Judith (1995). Alexander, Who is Not (Do You Hear Me? I Mean It!) Going to Move! (Illus. R. P. Glasser 'in the style of Ray Cruz'). New York: Aladdin Books.
Recommended by Irma-Kaarina Ghosn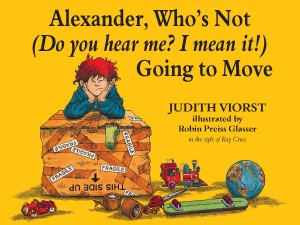 Judith Viorst is perhaps best known for her children's books, which include the Alexander series: Alexander and the Terrible, Horrible, No Good, Very Bad Day, Alexander Who Used to Be Rich Last Sunday, and Alexander, Who is Not (Do You Hear Me? I Mean It!) Going to Move! She has a very keen sense of what matters to children.
The cover illustration of Alexander, Who is Not (Do You Hear Me? I Mean It!) Going to Move! arouses curiosity and children will be eager to find out why the boy looks so unhappy. The interior illustrations provide ample contextual support for language learning.
Alexander's family is moving because of the father's new job. This makes Alexander very unhappy, because he does not want to leave his best friend, Paul or his favorite babysitter, Rachel. Next to the family's new house are two boys of Alexander's brothers' age, but apparently no boys of his age next door. He will also miss his neighbors' dog, named Swoozie.
So, Alexander begins to think about his options if he stays behind when his family moves. He might move in with a family who has five girls and who 'always wanted a boy'. He even considers living by himself in his tree house – 'or maybe a tent or a cave'. Seeing Alexander's sadness, his father suggests that he could visit his special places once more before the move. Alexander agrees and pays a visit to several places. Eventually, he says good-bye to his best friend, the neighbors and their dog, and his babysitter.
The book is ideal for a second language class, as it is rich in repetitious language: they can't make me; I'm not going to; I'll never have; Nick/mom/dad says; maybe I could; I looked at; I said good-bye; gave me are some of the expressions repeated several times. [End of Page 52] 
This might not be suitable in contexts where children have only one or two lessons a week. However, if children begin learning English in year one of their schooling, by year four or five they will be able to enjoy the book. Needless to say, one would not expect them to learn all the language in the book, but to pick up some of the key expressions and vocabulary. I have seen teachers of 9-11-year olds use the book very successfully in schools where children learn English from their first year of schooling with 4-5 lesson periods a week.
Irma-Kaarina Ghosn PhD is Associate Professor in the English Department at the Lebanese American University. During her 45-year career she has conducted numerous teacher development workshops and authored ELT coursebooks for the Ministry of Education in Lebanon. Some of her recent publications include Storybridge to Second Language Literacy – The Theory, Research and Practice of Teaching English with Children's Literature (2013) by Information Age Publishing. Her latest coursebook series are Enjoy English! and Ahead with English by UNRWA Education Program (2011-2015).
Beverley Naidoo (2000). The Other Side of Truth. London: Puffin Books
Recommended by Janice Bland
The Other Side of Truth is Beverley Naidoo's Carnegie Medal awarded young adult novel. Beverley was born in South Africa – and, after taking part in the resistance to Apartheid, became a committed author, often revealing inequalities and injustice in her writings.
The book tells the moving story of Sade and Femi, a sister and younger brother caught up in political oppression, danger and clash of cultures. Sade and Femi become refugees when they must flee the very day their mother is shot by the corrupt regime in Nigeria under General Abacha, killed by the bullets intended for their outspoken journalist father. The children lose their family, friends and all possessions as they are urgently [End of Page 53] smuggled out of the country, and then promptly abandoned by their 'people smuggler' at Victoria Station, to wander the winter streets of London alone.
The title is significant in that the children's father had courageously tried to tell the truth: 'The truth is the truth. How can I write what's untrue?' However, Sade and Femi face many situations where they are afraid to tell the truth, fear the intentions of all authorities, and are terrified that their father may never be able to join them. Having reached London, their father is very nearly deported back to the corrupt authorities in Nigeria – indeed the resolution of whether the family will finally be granted asylum in the UK is left open. Only few weeks before, the radical Nigerian journalist Ken Saro-Wiwa had been executed – an historical character in a narrative that blends fact into fiction and creates a gripping story that is at once unpredictable, realistic in its authenticity and powerfully moving.
This book is well suited to the classroom, including where the students speak English as a second or foreign language. The narrative compels the reader along, the chapters are brief with titles that may be discussed (e.g. Chapter 2: 'Say nothing!') The authenticity of the story leaves a deep impression of the issues of freedom of speech, truth, injustice and asylum. Most of all, the focalising character, Sade, reveals the confusion, fear and hardship through her young eyes. She is bullied in a London school, tries to protect her younger brother and save her father from deportation – a desperate struggle that would overtax most adults. The important element of humour is introduced through the many minor characters that yet seem real: such as Miss Police Business, Darth Vader of the Alley and Mr Seven O' Clock News. A powerful book.
Janice Bland (PhD) is Deputy Chair of TEFL at the University of Münster. She has worked in the English Departments of Duisburg-Essen, Hildesheim and Paderborn Universities, and as Visiting Professor of English Language and Literature Teaching at Vechta University. Her research interests are language and literacy development in the second language, visual and critical literacy, intercultural learning and global issues, drama and creative writing. She is the author of Children's Literature and Learner Empowerment. Bloomsbury (2013). Janice is co-editor of CLELEjournal. [End of Page 54]